A Pokémon Go tool that takes you everywhere!
With Spoofer Go, you will have the tools to make you the best Pokémon trainer out there. Spoofer Go is a straightforward, strong, and efficient App that allows you to play anywhere, anytime.
Supported by Pokémon Go, Spoofer Go has a powerful fake location function along with great movement functions that make exploring the Pokémon Go world easier and more exciting.
Latest Version: 1.0.2.23 ( For Pokémon Version: 0.291.2 )
What can you do with Spoofer Go
Spoofer Go is the best Pokémon go tool to becoming the best trainer. Here are a few of the functions you can use in Spoofer Go.
Altered Gameplay
Tweaking/Hacking tools

Level Up Faster

Catch Every Pokémon Without Fail

Preview IV levels and more before catching Pokémon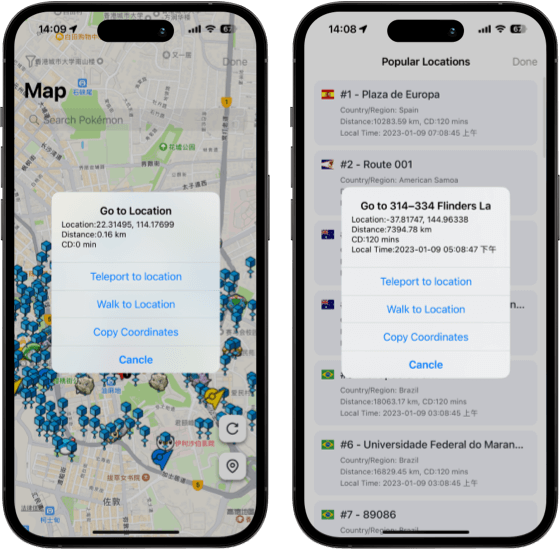 01 Fake Location & Teleport
Go Anywhere

With Spoofer Go you have the ability to teleport anywhere on the map at any time. There is no need to leave the comfort of your home.

Pre-Set destinations

Spoofer Go has a variety of great pre-set destinations in the Spoofer GPS. These pre-sets provide areas with great Pokémon and can be shared with your friends.

Teleport

You can teleport to raids, to the gym, or to a pokestop. When you teleport the app will calculate the cooldown time until you can teleport again.

NB: Teleporting can cause cooldowns. Pokémon Go has a built in feature to prevent teleporting, if the game figures out you're using external tools to spoof your location it will lock you from catching Pokémon for an hour/ multiple hours (depending on distance.) Spoofer Go will remind you of the cooldown time in case you fail to catch them.

Coordinates

Copy and share your coordinates with others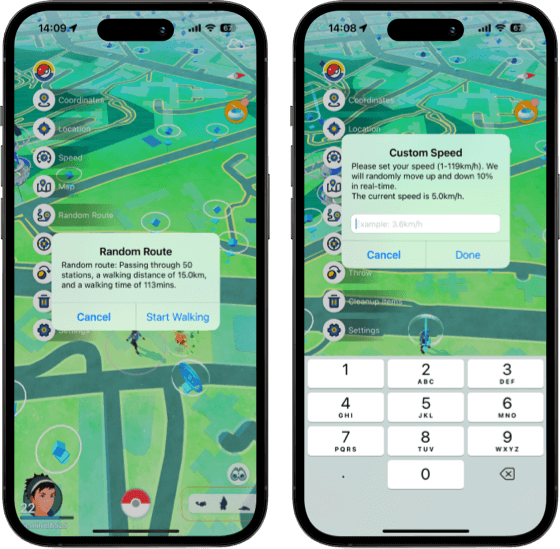 02 Walking Simulator
Spoofer Go has multiple functions to simulate realistic movement:
JoyStick

With the in-built joystick function, you can move freely around the map.

Auto-Generated Routes

No need to walk, If you are near the pokestop you can use the auto-generated movement function to get around.

Tap to Walk

Simply tap on a location and your in game character will walk to the new destination.

Speed Control

Spoofer Go even simulates real behavior by automatically changing your walking speed from time to time. Users can set their own walking speed to keep the game thinking you're walking.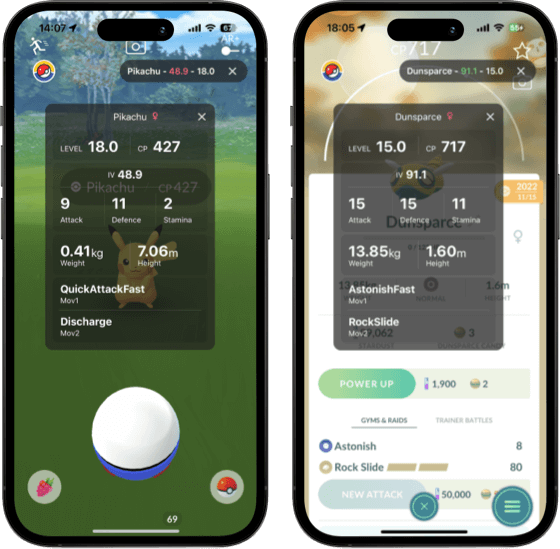 03 Check IV Previews
IV Preview

Get accurate insight into the Pokémon values of any Pokémon in your inventory. Usually you will need to capture the Pokémon to see this information. With the "IV Preview" you can now see this information before capturing the Pokémon. This way you don't have to waste pokeballs on Pokemon with low IV levels.

Information you will see include attack, defense, stamina and mov.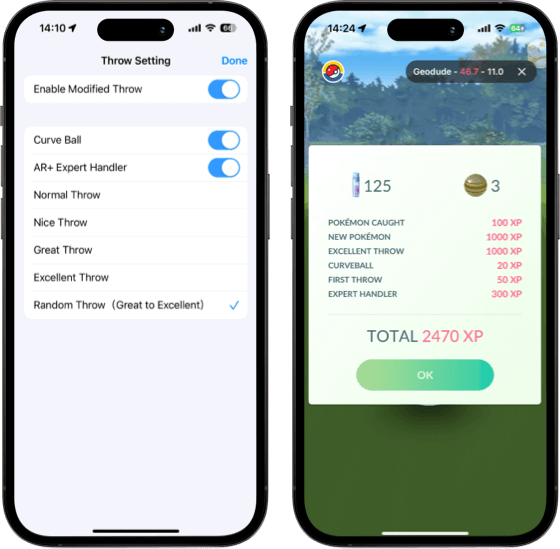 04 Modified Catch Settings
Change the way you throw your pokeball

Auto Catch / Spin: With the Auto Catch / Spin on you can catch and spin stop without using your phone.

Throw a Curve Ball: Modify how you throw a Pokeball and throw a curveball to increase your chances of catching a Pokémon unaware.

Edit AR & Expert Handler Level: edit your alert level when catching Pokémon, making them easier to catch and your improve your expert handler XP.

Throw type modification: Alter the type of throw made.

* These are the judgment result that can directly set the throw.

Freeze Pokémon

To make Pokémon easier to catch, you can even freeze them while you throw your Pokeball.

Release Catch

The Release catch feature will automatically remove Pokemon that don't have the IV's you are looking for. For example, the Block Non-Shiny function blocks you from clicking on any Pokémon, which isn't considered a shiny catch.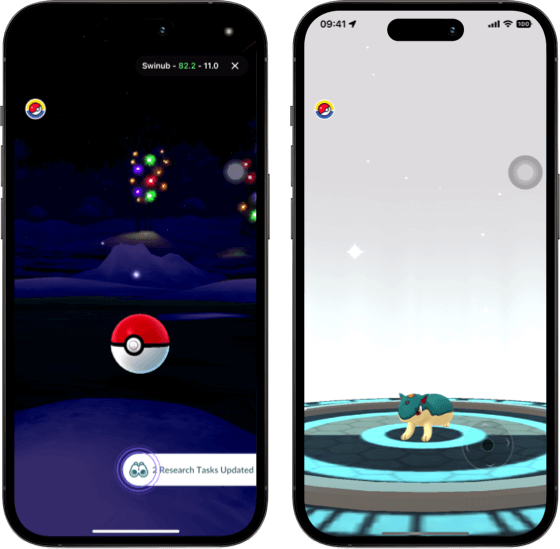 05 You can Skip Animations
Fast Catch

The Fast Catch function allows you to catch a Pokémon without having to see the animation of the catch.

Skip Animations

Don't fret. With Spoofer Go you can skip all animations. This includes animations like when the eggs hatch, Pokémon evolve, Purifying Pokémon, meg evolutions, or when you get a new Pokedex entry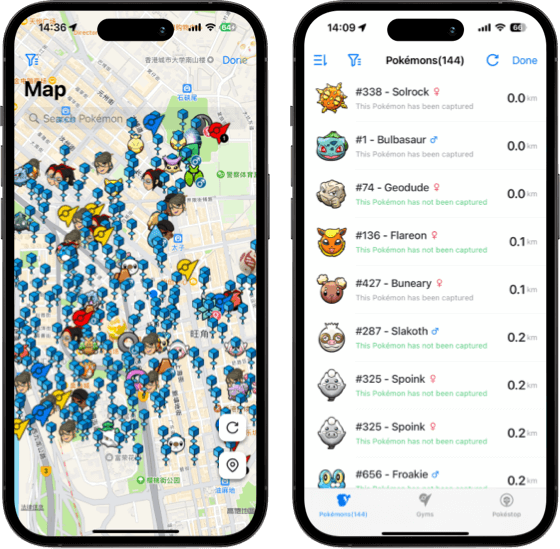 06 Easy Access to Pokémon, Pokestops, and Gyms Data
Inbuilt Map Searching

Search for and find epic Pokémon hotspots, pokestops, and gyms on the in-built map.

Nearby

Through Soofer Go, you will also gain early access to Pokestops, gyms, and some of the best Pokémon.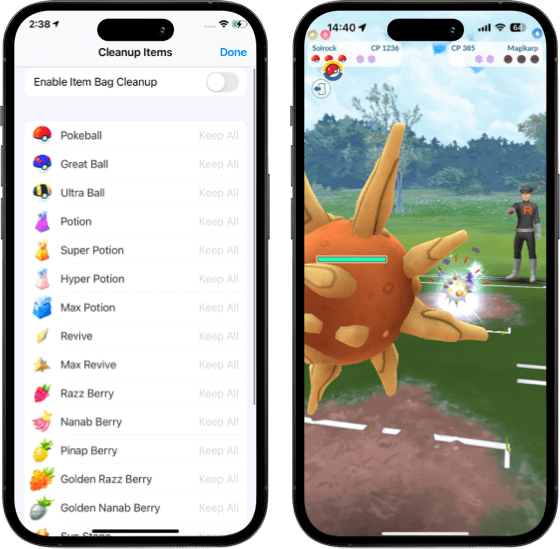 07 Helpful Hacks
Spoofer Go also provides you with some great hacks.
Team Rocket - One Hit

Smash Team Rocket every time with one hit!

Virtual Go Plus

The Virtual Go Plus feature makes collecting stardust loads easier. Just put Virtual Go Plus on and let it do the hard work.

Auto inventory cleanups

remove unnecessary items automatically from your inventory. This will make sure your inventory is never full. You can also use one-click delete to clean your inventory immediately.

Spawn Booster

With the Spawn Booster function, you will always have Pokemon to hunt. Spawn Booster reveals pokemon in your area and pokemon further away.
Benefits of using Spoofer Go
As you can see, Spoofer Go has some epic benefits if you are looking for a great Pokémon Go experience.
Go anywhere, anytime
The fake location and teleportation ability help you travel the map from the comfort of your home. You can literally play Pokémon Go anytime, anywhere!
Speed up your Pokemon upgrades
By being able to modify how you play and what Pokémon you get you will find that you can upgrade your Pokémon and earn XP much faster.
Catch Em All
Being able to check a Pokémon's IV ratings is helpful when looking for a specific Pokémon. Once you found the right Pokémon, use additional throw functions, and you'll have the ability to catch every Pokémon you encounter in a single throw.
Intelligent simulation
Provides your character with automatic functions that simulate life-like behavior in your character to prevent you from being blocked.