How to download Pokemon Spoofer Go for free
Spoofer Go has become the best spoofer App for Pokemon Go in 2023. Are you wondering how to download the Pokemon Spoofer Go spoofing App for free to use those powerful modding features? This tutorial tells you how to do it!
Spoofer Go developers provide players with various download methods so you can download Spoofer Go spoofing App for free. Read on for the installation tutorial below.
How to download Spoofer Go via Panda Helper
Spoofer Go is a hacked version on iOS of Pokemon Go spoofing Apps that you can't download from the App Store or Google play store. You can download and sign spoof GPS location App from other third-party App stores like Panda Helper.
Panda Helper is a third-party App Store where you can download hacking games and tweaked Apps. Panda Helper also provides a signing service for iOS users. If you can't sign Apps by yourself or your device is not jailbroken, it is recommended that you use Panda Helper to install Spoofer Go spoofing Apps and Pokemon Go hacks to spoof pokemon for iOS.
1. Download Panda Helper on iOS
Panda Helper supports installation on iOS 9 and above iOS devices, and users who have upgraded to iOS 16 must enable the developer mode before downloading it to spoof pokemon.
1. Use Safari to open the Panda Helper official website. Please do not use the privacy mode. Otherwise, the installation will fail.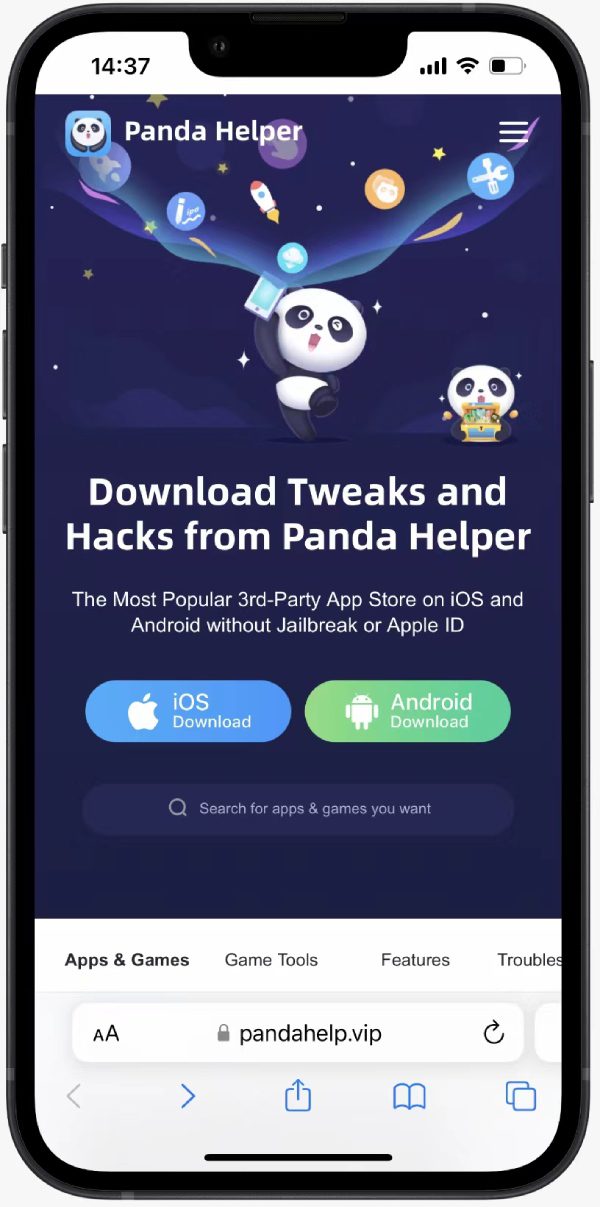 2. Click "iOS Download" on the home page of Panda Helper, then choose Free Version, click "Install," and click "Free Web Version" to Install for non-jailbroken devices. This version will not fail to open due to certificate revocation. If your device has been jailbroken, please select Jailbreak Version to install.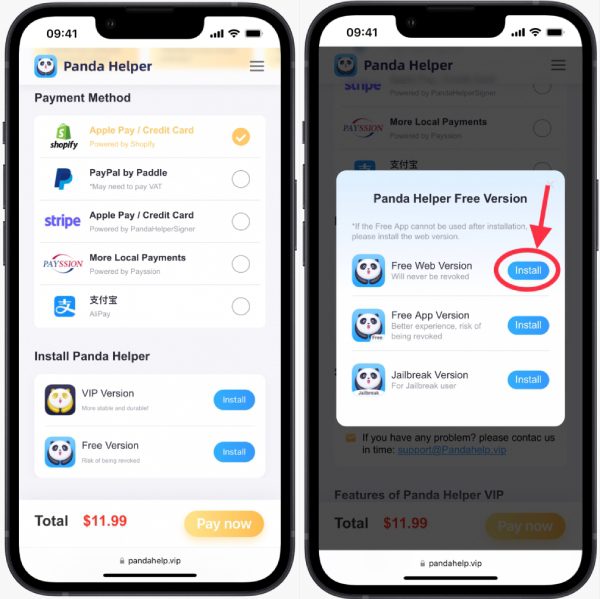 3. Then follow the prompts that appear, click "Download," "Done," "Allow," "Close," and return to the settings, click "Profile Download," click "Install" for the Install Profile of Panda Helper, enter your passcode, confirm Install again, and finally, return to the screen, you can see that Panda Helper has been installed.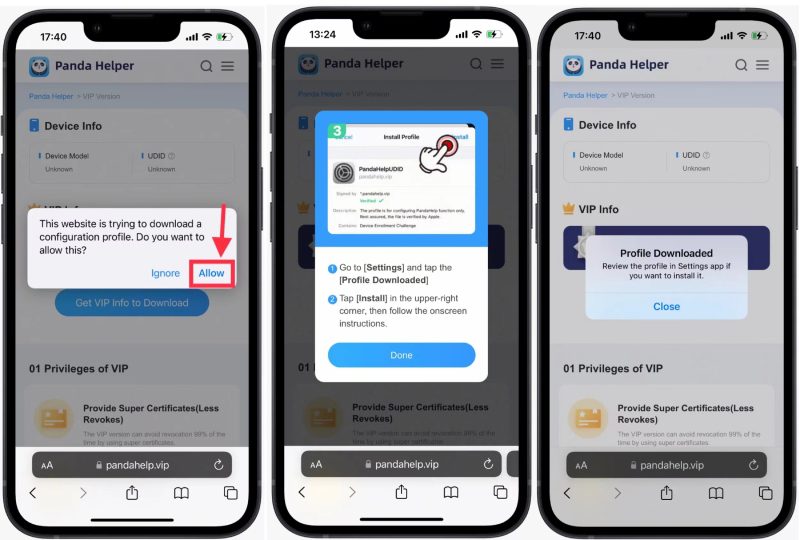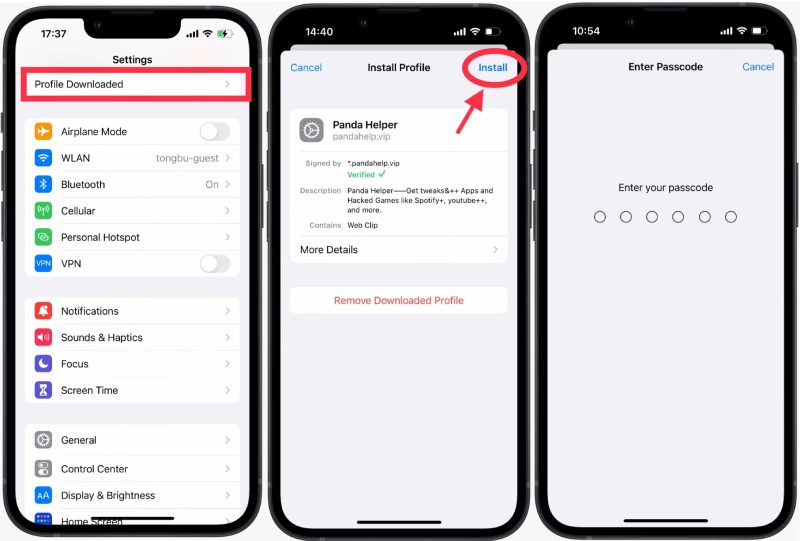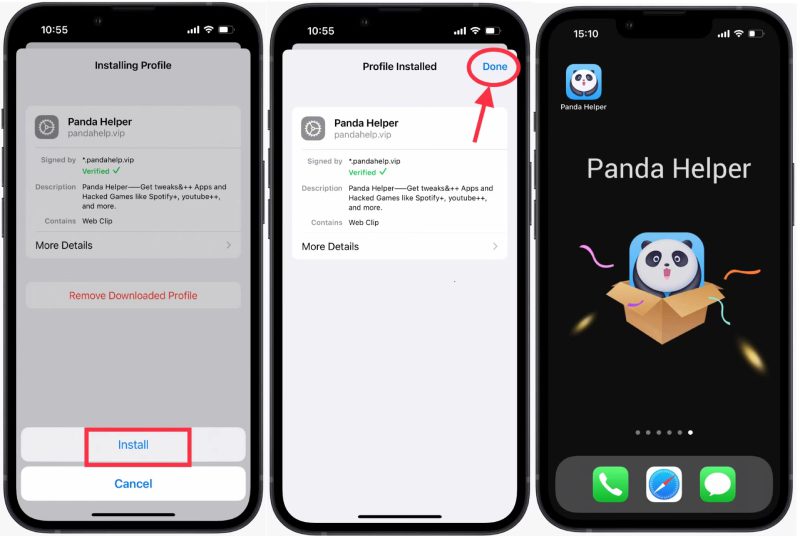 2. Download Spoofer Go from Panda Helper
If you want to have a better experience, it is recommended that you install Panda Helper VIP Version. The following installation steps are the same as the free version.
After installing Panda Helper, open and search for Spoofer Go, then download the latest version of Pokemon Go++ by Spoofer Go to your iOS device.
Before installation, you must fill in your email so Panda Helper can check your information. Please fill in the correct email address.
After the download is complete, open the location spoofer App Spoofer Go.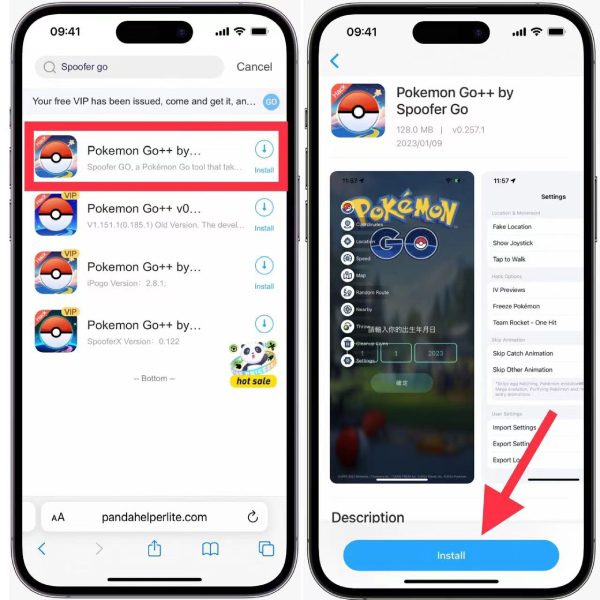 When you open Spoofer Go for the first time to play pokemon, a prompt will appear asking you to open it in Panda Helper to trust; please follow it. Now you can use Spoofer Go to fake GPS locations in Pokemon Go.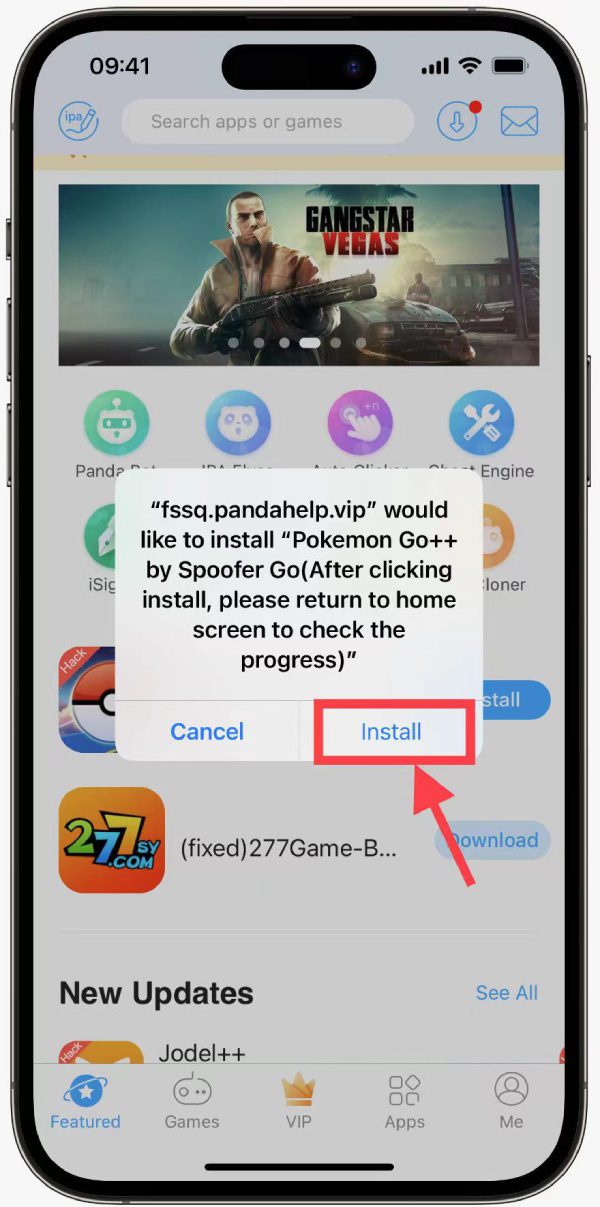 Note: You need to uninstall the original Pokemon Go downloaded from the App Store before installation. Otherwise, it will fail to install. You also have the option to download a clone from Panda Helepr if you want to keep the original game at the same time.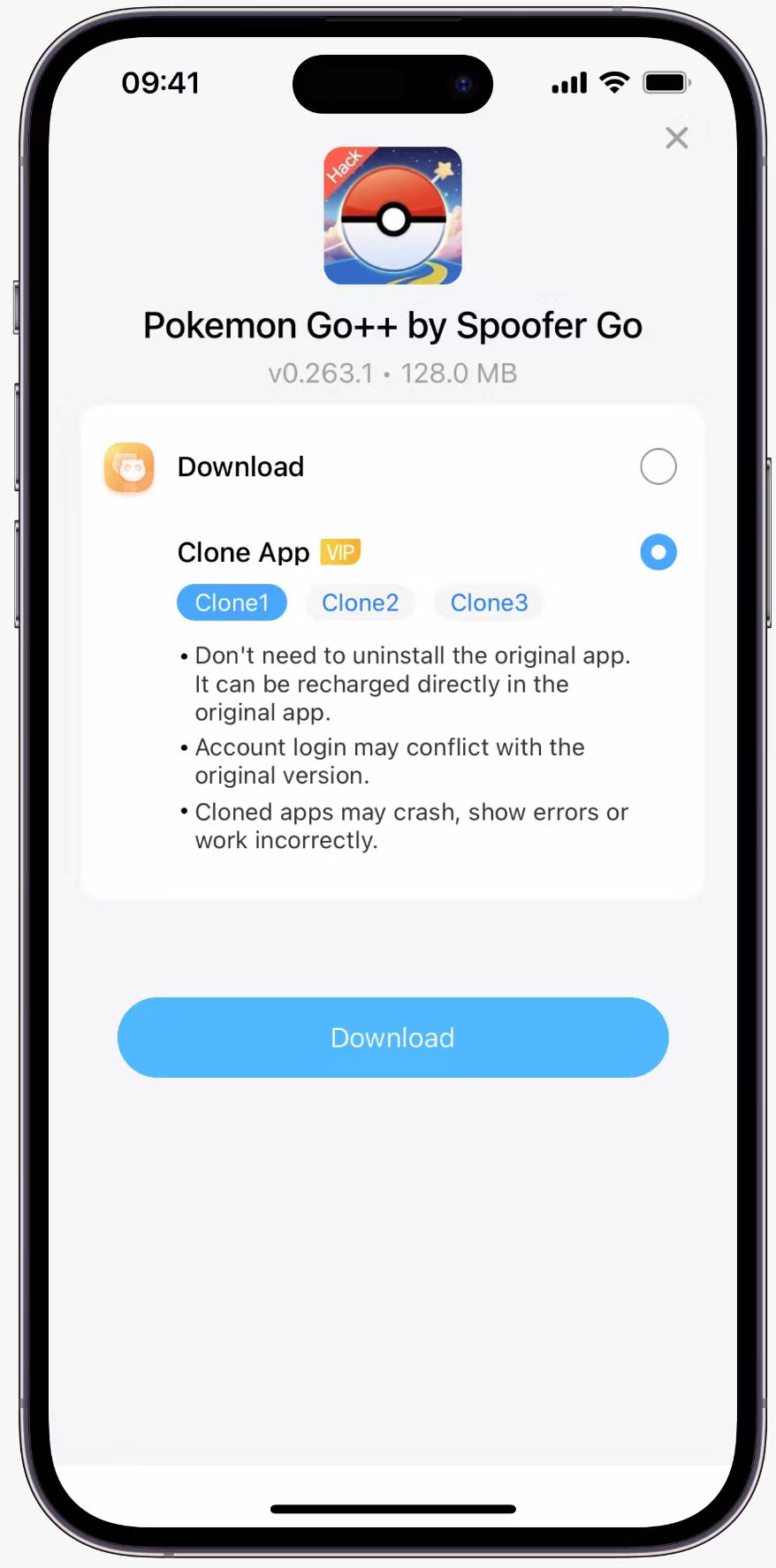 Besides Spoofer Go, you can also install other Apps from Panda Helper to enjoy.
How to download Spoofer Go via Altstore
In addition to Panda Helper, you can use other signing tools to sign Spoofer Go APK file. There are many tools to install and sign your game package. Altstore is one of the most commonly used free tools.
1. Install AltStore on PC and iOS
Before signing up with Altstore, you must first download the Pokemon Spoofer Go IPA file.
a. Windows 10
Before using Altstore to sign Spoofer Go, you should install the Altstore App on your iOS device.
Preparation before downloading:
Install the latest version of iTunes on your PC:
Visit the official Apple iTunes, click "Windows," as shown in the picture, and click "Download iTunes for Windows Now" in blue to start downloading and installing it on your PC. Please do not install the version of iTunes on Microsoft Store.
Install the latest version of iCloud on your PC:
Visit the official Apple iCloud, and click "Download iCloud for Windows on Apple's website," as shown in the picture, to download and install it on your PC.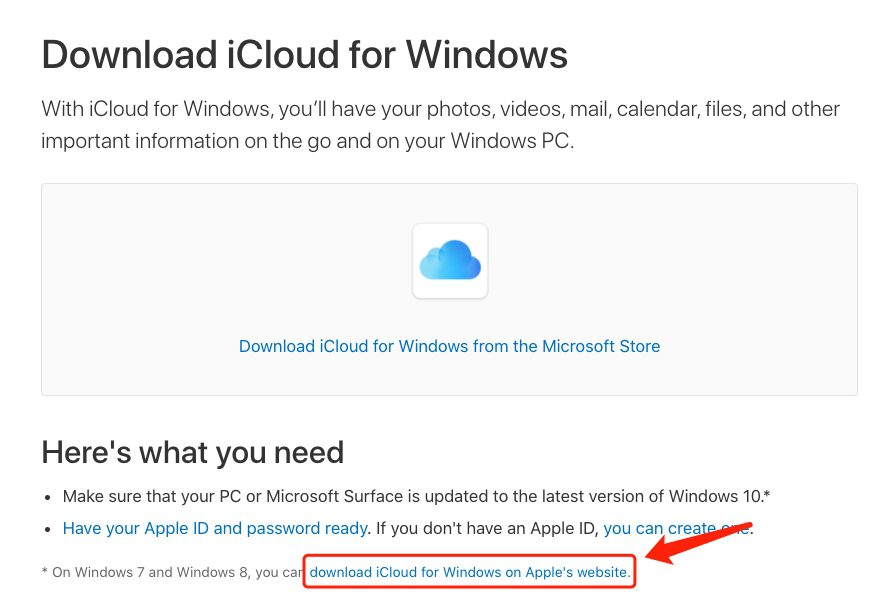 Install Alitstore on PC
Once both Apple software installations are complete, you'll need to restart your Windows computer. After the restart, sign in to iCloud on your PC with your Apple ID.
* Windows Firewall must allow AltServer to connect.
After completing the above preparations, visit the official AltStore, click "Windows" to start downloading the AltStore installation package, and follow the prompts to install AltStore.


Once the installation is complete, click on the "search-box" in the lower-left corner of your computer to search for and find the "AltServer" application.
When you launch it for the first time, a Windows Defender firewall alert will pop up, check both "Private and Public Network," and select "Allow Access." AltStore will be displayed in the Windows Taskbar.
Install AltStore on iPhone
Open iTunes on your PC and connect your iPhone to your computer via the data cable. If there is a pop-up prompt on your iPhone, click "Trust." Click the "Phone" icon in iTunes on your PC to go to the phone's details page.
In the "Options" area, check "Sync with this iPhone over Wi-Fi," then click AltStore in the system notification tray, click "Install AltStore," and select your iPhone device.

You must enter your Apple ID and password and click "Install" to install AltStore on your iPhone. In a few moments, we will see AltStore on our iPhone desktop.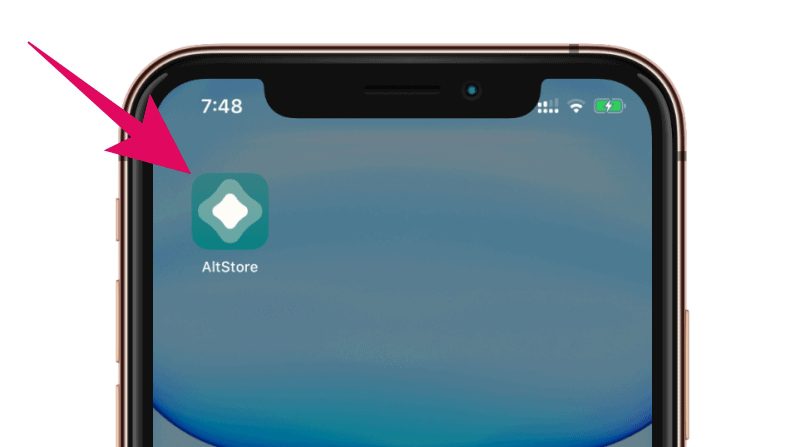 b. macOS
If your PC is macOS, then the above installation method is not applicable. Please refer to the following method to install Altstore to iPhone on macOS.
Install AltStore on PC
Download the macOS version of AltStore and launch the AltServer application. Click the AltServer icon in the menu bar and click "the Install Mail Plug-in" option to install the mail plugin.
In the pop-up prompt, click the "Install Plug-in" button to install the plug-in.
If prompted to enter your Mac administrator password, enter it and click OK.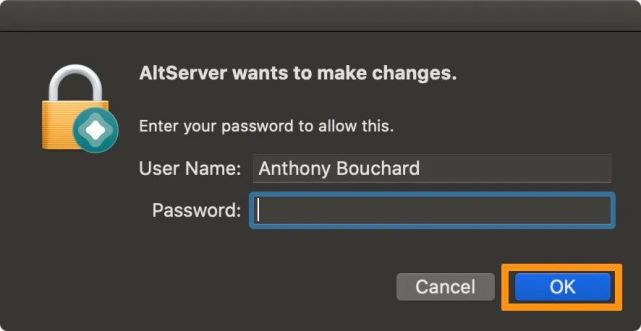 When finished, AltStore will prompt you that you have installed the plug-in, then click "OK."

Open the Mail application, then click "Mail" -> "Preferences" in the top menu bar.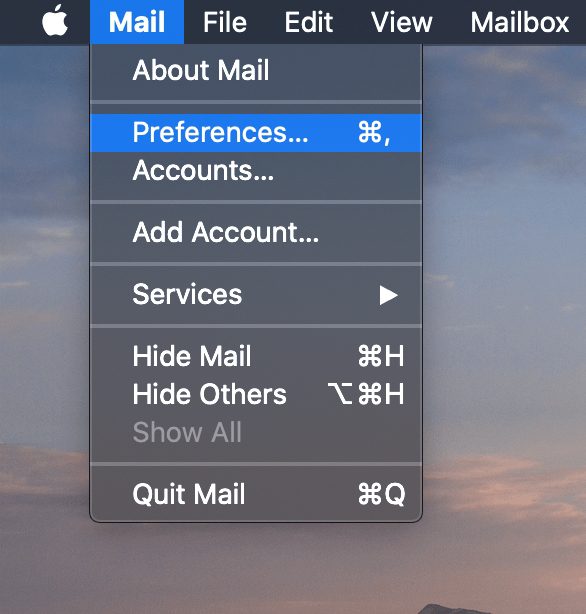 Go to the "General" tab, then click the "Manage Plug-in" button.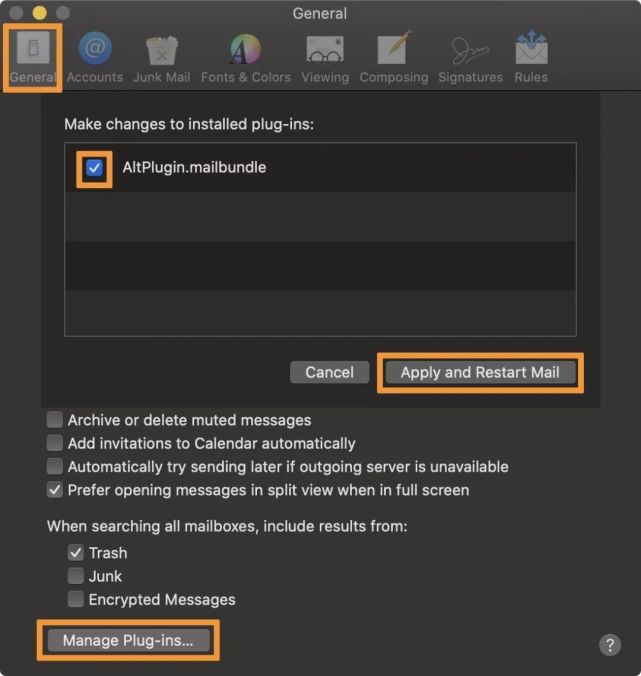 Check the checkbox next to "AltPlugin.mailbundle", then click the "Apply and Restart Mail". Your Mac is now configured with AltServer.
Install AltStore on iPhone
Connect an iPhone or iPad with iOS 12.2 or later to your Mac using a data cable. Click the AltServer In the top menu bar and select "Install AltStore" -> "your device name."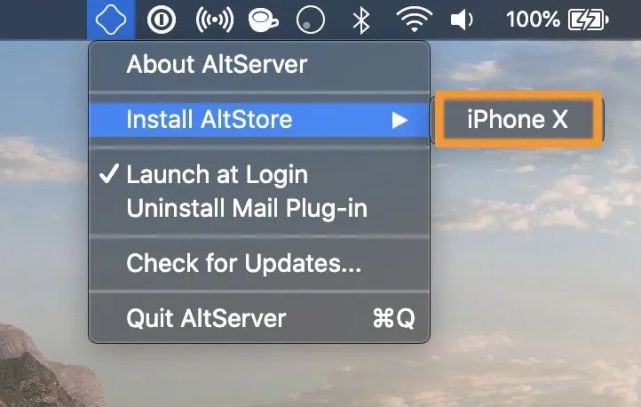 When prompted as shown below, sign in with your Apple ID and click Install.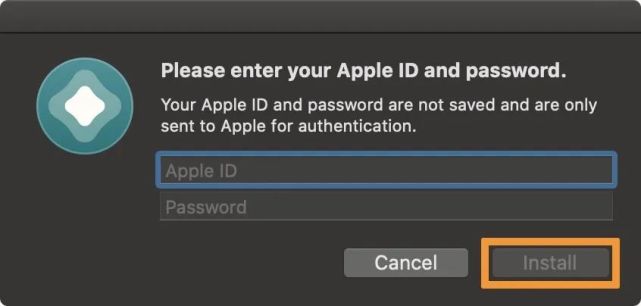 If AltStore prompts you that you have previously used AltStore on another device, click Continue. AltStore will then appear on your iPhone home screen.
Launch AltStore App
If you get an "untrusted" message when you launch AltStore on your iPhone or iPad for the first time, go to Settings > General > Profiles and Device Management, find your Apple ID, and trust it.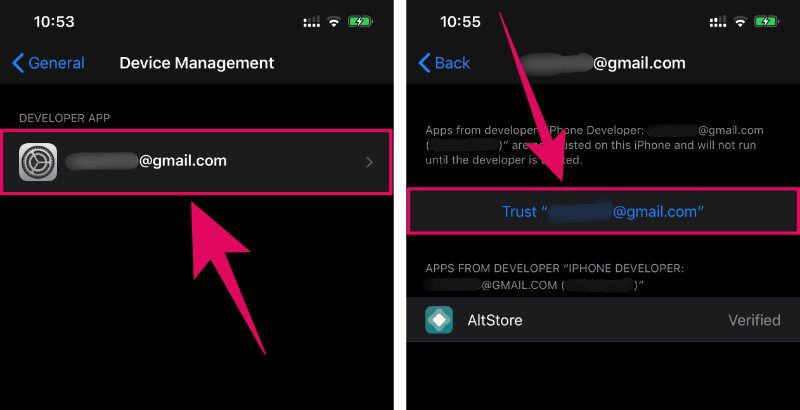 Launch AltStore, click "Settings" > "Account" > "Sign in with Apple ID", enter your Apple ID account password and sign in. AltStore can work on your iPhone or iPad, just like other Apps.
2. Sign and install Spoofer Go via Altstore
We'll show you how to install location spoofing Apps like Spoofer Go on your iPhone that are not on the App Store using AltStore.
1. Use Safari to visit the official Spoofer Go and "Download IPA File." Tap on the "Download" in the prompt. After downloading, click the share icon in the lower left corner and choose Altstore.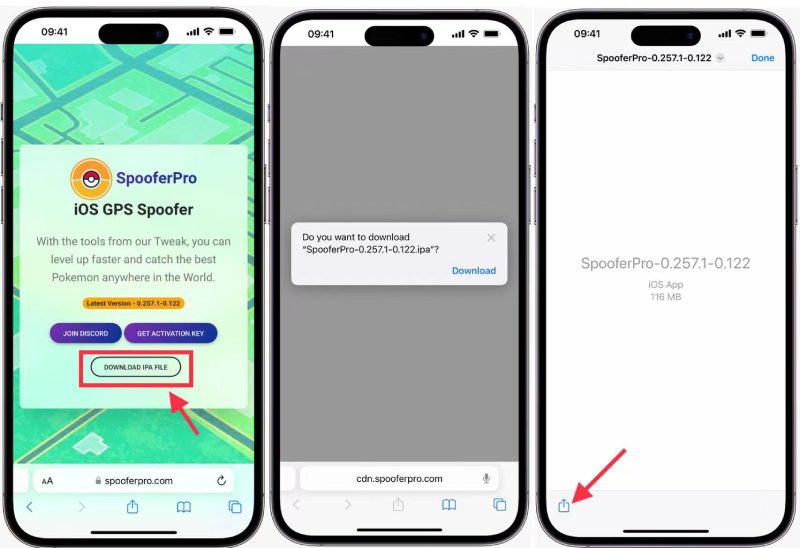 2. Enter the same Apple ID you used above if prompted, and then tap on "Sign In"(you need to fill in your Apple ID and password to use AltStore for the first time), click "Keep App extensions" on the prompt that appears, wait for the Altstore signature to be completed. Spoofer Go will appear in the Active list. Go back to the home screen and open and enjoy playing Pokemon Spoofer Go.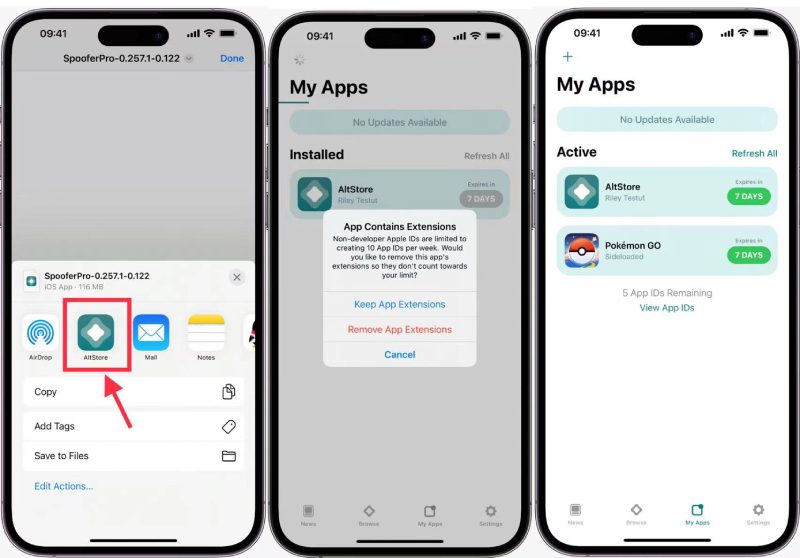 Note: Installing the App on iPhone requires the PC to have AltStore running in the background and be on the same Wi-Fi as the iPhone; otherwise, it will report an error and fail to complete the installation.
3. Apps signed with your Apple ID are only valid for 7 days. To avoid expiration, you can let your PC run AltStore while your iPhone and PC are on the same Wi-Fi and click "Refresh All" in iPhone AltStore to renew all the Apps.
Lastly, if you still have questions during the download process, please contact Spoofer Go's customer service email to help you.